The Eleventh Annual International Gathering in Biosemiotics will be held from June 21 to June 26, 2011 under the auspices of the Dactyl Foundation at the Rockefeller University for Biomedical Research (Weiss Research Building, Rm 305) in New York City, USA. The  Gathering will bring together researchers in various academic disciplines who are investigating the presence and the role of sign processes in living systems. The Gathering is organized by the Dactyl Foundation in collaboration with the International Society for Biosemiotic Studies. The Call for Papers is now closed. All requests for information about the Gathering should be sent to Victoria N. Alexander at alexander@dactyl.org Looking forward to seeing you there!
Don Favareau Vice-President International Society for Biosemiotic Studies
Victoria N. Alexander President Dactyl Foundation
What is Biosemiotics?  Visit the International Society for Biosemiotic Studies website. Listen to Don Favareau on BBC Radio.
Gathering Site and Travel Information
The Rockefeller University's main entrance is at 1230 York Avenue (at East 66th Street) NY, NY 10065, on Manhattan's Upper East Side. Meeting locationL Wiess Research Building, Room 305
Google Satellite Map |  Mapquest Street Map |  Map of Rockefeller Campus


Facilities A dedicated computer and A/V equipment will be available for all and no special arrangements should be necessary. Please bring your talk saved on a memory stick.  If you plan to use a program other than PowerPoint, Keynote, or Word, write to Victoria alexander@dactyl.org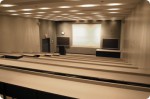 Transportation
From Airports JFK, Newark, NJ or La Guardia
There are various shuttle services available from about $14 (with a reservation) to $25.
GoAirLink.com
ShuttleFare.com
Taking a shuttle from JFK or Newark airports is much more affordable than a taxi. A taxi a may be as affordable from LaGuardia airport, which is close to the Gathering Site and near Long Island City.
JFK Airtrain to Subway Alternatively you can catch the Airtrain for $5 directly outside Arrivals at JFK. (Don Favareau recommends it.) At Jamaica Station subway station, take the E train for  $2.50. You will find a bank of self-service machines (it takes credit cards, debit cards or cash) at Jamaica Station where you can buy a rechargeable Metrolink card good for all NYC subways and busses and ferries.
If you are going to a hotel in LIC, you can switch to the F train (directly across the platform at Kew Gardens/Union Turnpike) and exit at QUEENSBORO PLAZA Station. Or stay on the E train and get off at Queens Plaza and walk a few blocks towards the Queensboro Plaza station. The Country Inn & Suites Hotel is 1 block to the RIGHT of the station at 40-34 Cresent (you will see the big sign when you exit). If you are going to other hotels, you can still take the E train or F train. Subway map. (Everyone will receive a subway map upon arrival at the conference.)
Getting to the Gathering Site
Subway: Take the Lexington Avenue Local (No. 6) to the 68th Street and Lexington Avenue Station. Alternatively, take F train at 63rd Street / Lexington Avenue. Fare $2.50 per person.  Subway Map
By Car or Taxi Cab: The FDR Drive can be exited at 61st/63rd Street.
Parking Greenberg Garage at New York-Presbyterian Hospital 212-746-1886 (entrance at 68th Street, east of York Avenue). Quick Park at 450 E. 63rd Street (between York and 1st Avenue). To estimate taxi fare see http://nyc.taxiwiz.com
Subway to Long Island City Hotels: Take the 6 train at Lex and 68th St. Change at 59th St (& Lex) for N or R train to Queensboro Plaza Stop. Alternatively take F train at 63rd St / Lexington Ave to Queensbridge Stop. 3-15 min train ride to Queens. $2.50 per person
Buses: Two buses stop near the Rockefeller University main entrance: the York Avenue/ 57th Street crosstown (M31) and the 68th Street crosstown (M66). Manhattan Bus Map
Bus from Long Island City Hotels (10 minutes): At Queens Plaza North and 27th St, take the Q32 bus (bound for Midtown Penn St). Get off at East 60th St & 2nd Ave. Walk 0.17 miles (3 minutes) East to 1st Ave & East 62nd St. Take the M15 Bus (bound for East Harlem via 1st Ave). Get off at 1st Ave & East 67th St.
Bus to Long Island City (10 minutes): At 2nd Ave & East 66th St, take the M15 (bound for Houston via 2nd Ave). Get off at 2nd Ave & East 61st St. Walk 0.10 miles (2 minutes) Southwest to East 59th St & 2nd Ave. Take the Q32 (bound for Jackson Hts via Roosvlt). Get off first stop at Queens Plaza South & 28th St.
Antibes Bistro (Thursday Dinner)
The restaurant is located at 112 Suffolk Street on the Lower East Side of Manhattan. Take the F train to Delancey Street, walk east on Delancey to Suffolk Street, turn left.  Or, if driving, take the FDR to Delancey Street exit. Get out at corner of Delancy and Suffolk and walk up half a block.
Nearby Hotels
Here is a list of recommended affordable hotels near to Rockefeller University.  The prices below are approximate and do not include tax.
New York State Sales Tax = 4%
New York City Sales Tax = 8.375%
Hotel Room Occupancy Tax = $2 + 5.875%
Hotel Bentley
500 East 62nd Street, near York
New York, NY 10019
01-954-969-0069
$242 per night
Very close to Gathering Site. Walking time 3 minutes. Good Price for full service, luxury hotel.
The Gracie Inn
502 East 81 Street, near York Ave
New York, NY, 10028
01-212-628-1700
$179-250 per night for 1-3 people
A bed and breakfast hotel. Walking time 20 minutes, about 1 mile. Most if not all rooms are suites with private baths, and many include kitchenettes. Voted Best of NY in 2010 by the Village Voice.
Long Island City Hotels
Long Island City is right across the East River from Rockefeller University in Queens, NY. Hotels here are 1/2 to 1/3 the price of most Manhattan hotels. You can walk across the bridge (30-40 min) or take a bus or subway (10-20 min). Long Island City is not a very pretty neighborhood, but it is "up-and-coming" with several art galleries and museums moving in. Long Island City is currently home to taxi companies and small industry with low to middle income housing mixed in. It is the most popular NY hotel area for European travelers. Walking Across the Queensboro Bridge: Click here for pictures of the walk starting on the Queens side. The footpath entrance on the Manhattan side is at 1st Ave and 60th Street.
Country Inn & Suites
most recommended for price
most popular choice for Gathering attendees
4034 Crescent Street
Long Island City, NY
Online reservation method recommended.
Country Inn and Suites central reservations in the US 1-800-830-5222
Country Inn and Suites central reservations outside the US + 353-1-706-0269
in the US call hotel directly at 1-800-456-4000
from outside the US call the hotel directly at 1-718-729-0111
$142 per night, per room
Map Driving time 5 minutes, 2.07 miles / Walking time 30-40 minutes, just under 2 miles A relatively large "tourist" hotel with relatively large guest rooms. Free breakfast.  "Choose from fresh eggs and sausages, prepared-to-order Belgian waffles, fresh fruit, pastries, yogurts, cereals, bagels and a variety of hot and cold beverages." Free High-speed Internet. Fitness Center. Clean and convenient to subway and walking path across Queensboro Bridge.  Subway stops nearby: Take the N, Q or 7 to Queensboro Plaza, or the F train to 21st St / Queensbridge Station, or the E, R or M train to Queens Plaza.
Ramada Inn
3830 Crescent Street
Long Island City, NY
$130 per night, per room
A small "tourist" hotel with small, but nice rooms. Free hot continental breakfast. Free WiFi. Fitness center. Clean and pretty convenient to subway and walking path across Queensboro Bridge. Only a couple of blocks farther from subway than Country Inn & Suites.
Nearby Hostels
Visit Manhattan Apartments
501 East 73rd Street, Corner of York Ave
New York, New York 10021
$44 per person per night
Times Square Hostel
453 west 47 Street 2nd Floor,
New York, NY 10036
$55 per person per night