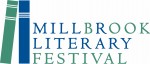 The 8th annual Millbrook Literary Festival will be held on May 21, 2016, from 10AM to 5PM, carrying on the vision of Festival founder Scott Meyer, who sought to engage the local community, share his love of books, and encourage writers.
The 2016 Festival will feature nationally recognized authors, including Lauren Belfer, K. L. Going, and Valerie Martin, and introduce up-and-coming authors such as Owen King, the graphic novelist son of Stephen King. The Festival will support our talented local and regional writers with a workshop meet-up, a publishing panel, book-to-screenplay writing panel, and a new writing award in honor of Scott Meyer. With funding from the New York Council for the Humanities, we will present Peter Meineck, offering a program specially designed for veterans and their families. Our many community development programs include a panel with Fountains residents sharing their experiences with young readers and, as always, our Young Writers' Showcase, as well as a number of fun children's panels. Many more authors and illustrators will be participating throughout the day at the Millbrook Library on Franklin Avenue. See our website for updates on participating authors.
We are seeking your financial support to make this year's Festival a success. Here are some details about our projected budget:
$1,200 tent, table, and chair rentals
We are expanding this year to provide space for more authors.
We've got most of this covered. Thank you, Millbrook Tribute Gardens!
$300 Projects for Children and Young Adults
We've already got this covered. Thank you, Millbrook Rotary!
$100-$500 Honoraria for Authors
We want to attract talented authors to the Festival and reward them for their valuable contributions. Help us recruit more exciting authors for 2016.
We've got some of this covered. Thank you, New York Council for the Humanities and Millbrook Free Library.
$1,200 Signage / Community Outreach / General Overhead
Yard signs, fliers, posters, radio and print ads, and etc.
$250 Scott Meyer Award
Open to any local / regional author. See writing award details on our web page.
Help launch this annual literary award to honor our Festival founder!
This year the Dactyl Foundation (dactylfoundation.org) will be helping raise money for programming and outreach by accepting your tax-deductible donations on our behalf. Donations can be made online at the Festival website or by sending a check payable to "Dactyl Foundation," with "Millbrook Literary Festival" in the memo section, to Millbrook Literary Festival, P.O. Box 1349, Millbrook NY 12545.
We also have opportunities for businesses to advertise in our printed Festival program. Please contact me directly if you have any questions at info@millbrookliteraryfestival.org. On behalf of the committee, I thank you for your support for the Millbrook Literary Festival. Your generosity will be acknowledged in the Festival program and on our website millbrookliteraryfestival.org
Sincerely,
Samantha Falk
Chair, Millbrook Literary Festival