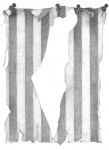 April 19 – May 6, 2007
paintings & drawings
Curated by Victoria N. Alexander
Opening: Thursday, April 19, 7 – 9PM
Deborah N. Sessel is a representational painter, depicting, in painstaking detail, humble personal items left behind by Jews who suffered the Holocaust. Working in oil, she renders with care the silken folds of a delicate scarf, a silver Star of David on a chain, and the smooth silk of "Frieda's Purse." In "Tefillah," which is Hebrew for prayer, we see prayer book boxes, with black leather straps attached them and a stack of well-handled leather-bound prayer books, whose grain seems able to reveal itself to touch. In a graphite-on-paper piece called "Study of Emunah," a prayer shawl hangs upon barbed-wire — neatly folded, crisp and clean, an effect which is accomplished by the precision and the tightness of the drawing. Spools of thread, needle, thimble and a Jewish star make up the arrangement in "A Day's Work." Sessel's own care in the rendering of these objects replicates the respect with which the owners must have treated both cherished possessions and objects of everyday use. Her landscapes contrast to the clarity and detail of her still lifes, depicting dim scenes, as evening falls and colors are muted, of anthropomorphized watchtowers, standing-in for those who manned them once. "Mincha," the afternoon prayer and title of one of the landscapes, is a time for calm and focusing on priorities in the midst of the day's trials. Although Sessel is too young to have experienced the Holocaust, her work shows an understanding of those who lived it — or at least this seems so according to many people, some of them survivors, who have viewed her work. So then we ask, How is this possible?
Trained in trompe l'oeil, Sessel is an especially realistic artist, but her work is not trickery. It is a form of representation that bespeaks what I will call, after American Pragmatist philosopher C. S. Peirce, a "metaphysical realism," which offers an alternative to constructivist theories about our abilities to know and model reality.
For many decades now, representation has been viewed as an intractable "problem" by cultural, literary, and art theorists, who argue that whatever system of representation one chooses to model reality (objects, events) the choice of representation itself constructs the very thing that it claims to re-present. Our biological and cultural systems selectively determine what is meaningful and what is not: the rest we simply don't see. Hence, meaning derives from structure and the systematic relations between and among these signs of things, not the things themselves. In this view wherein visual language refers only to itself rather than to objects, language constructs our notions of reality. Such theories have led to a decline in the popularity of representational work in favor of abstract work that refers to the materiality of the representational system itself or to its conventions and assumptions and etc.
This view of representation is clearly inappropriate for Sessel's work, which insists, quite clearly, that meaning is more than strictly conventional and relative objectivity is possible to behold.