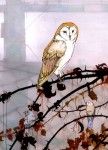 September 24, 2005-November 18, 2005
"Where Eagles Dare," paintings
Curated by Neil Grayson
Opening Reception: Saturday, September 24, 2005, 7-9 PM
If at first glance this work seems to depict pretty bucolic suburban life, on second glance one notes that the sparrows and pigeons are tattooed with gang affiliations. Telephone poles replace totem poles and smoke stacks steeples in their sacred significance. The theme running through the series speaks of wild animals being partially domesticated and children going feral. This untraditional portrayal of nature is not necessarily sinister, but it's edgier than it first appears.
Former graffiti artist, Sage Vaughn has been featured in Warped, Nylon, Juxtapos, PUTA and i-D magazines as "an artist to watch."