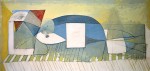 January 1, 2009
D'Arcy, David, "Last of the Breed," Art + Auction January 1, 2009
Through his friendship with Giacometti, his ties to a key Picasso heir and his legendary eye, Jan Krugier built an empire. When he died at age 80 last fall, the art world lost the final remaining member of the generation of postwar connoisseur-dealers.
At Art Basel 2008, a frail Jan Krugier turned up unexpectedly, touring the rows of booths in a wheelchair. The renowned art dealer, who had been ailing, had traveled to the fair from his home in Geneva. His staff took care that the crowd did not overwhelm the small man, who was swarmed by well-wishers. Krugier was still a force in the market, as he had been for almost 50 years, micromanaging his business on two continents.
In November, the dealer died at home with his wife at his side, finally succumbing to degenerative bone-marrow disease, which he had been fighting for several years. He was 80.
Krugier was a man of paradoxes: Up until his last breath, he railed against "people who don't know what they're buying," yet his booth at the fair, which offered everything from Balthus to Basquiat, sold three Giacometti busts to Russian oligarchs, the ne plus ultra of new and untutored money. He was a man who mocked money, but he wasn't allergic to it. His prices soared with everyone else's.
What distinguished Krugier — who had been in the business since the days when he sat at a café table with Alberto Giacometti and Jean Dubuffet — was a staying power that his compeers didn't share. "He was part of a tiny, tiny sliver — Andre Emmerich, Stephen Hahn, Klaus Perls, Eugene Thaw, Ernst Beyeler," says the New York-based prints and drawings dealer David Tunick, citing giants of the trade from Krugier's generation, who are all either retired or deceased. And none of them showed (or sold) the range of work that he did: Picasso, Cézanne, Klee, Giacometti and other modern greats; an elite selection of contemporaries, including the Chinese painter Zao Wou-Ki; plus antiquities and tribal art once consigned to the category "primitive." (You didn't find installations at his galleries, or video or much photography.)
"Most art dealers tended to be either past or present. But not past and present," says Pierre Schneider, the author of a magisterial study of Henri Matisse, explaining what made Krugier, a decades-long acquaintance, so unusual in his field. "He certainly did as much to break down that frontier as any dealer I've run into."
Krugier, a survivor of the Nazi death camps, built a new life on the ruins of the old, and fueled a thriving career on one governing principle: selling art he loved, often by artists he knew personally. Relationships were crucial to his success, beginning in 1962, when he set up his first gallery in Geneva's Old Town at the urging of his friend Giacometti, who felt that abstraction had pushed aside artists who, like himself, Balthus, Wifredo Lam and Giorgio Morandi, depicted the human figure. Not all Krugier's useful connections were artistic: His widow, Marie-Anne Poniatowski, whom he married in 1969 (eight years after the death of his first wife), is a prominent French aristocrat of Polish descent whose family strengthened one of the most important contacts of Krugier's long career, with Pablo Picasso's granddaughter.
The Geneva gallery prospered over the years, partly through Krugier's considerable personal charm. It's a trait that wasstill evident in his last years, as the dealer, belying his often jittery and impatient manner, gave visitors long lectures on Max Beckmann and Edward Hopper in any of five languages. "A lot of my passion for art comes from Ernst Beyeler and Jan Krugier," says Sam Keller, current head of the Beyeler Foundation, in Basel, and the former director of Art Basel, who credits Krugier with helping make the fair a success. "He would take the time for young people, and people who were not collectors, to talk to them about art. Many dealers, of course, are open to answering questions, but Jan could easily give you 15 minutes or sometimes half an hour, just because he got excited."
This excitement was fueled by a blue-chip inventory that insulated Krugier during downturns in the art market. When the Impressionist and contemporary markets crashed in the late 1980s, he not only survived but prospered. If the market responds to quality, as the old saying goes, Krugier had it. It's no wonder that other dealers and plenty of collectors mobbed him with such enthusiasm at Basel.
Who wouldn't have coveted a piece of Krugier's inventory, or at least the benefit of his taste? Staffers say that little will change for the Geneva and New York galleries in the immediate future — the huge inventory that Krugier built up should keep them going through any interegnum. Yet no one believes that his eye or his assurance will be easy to replace. Both were on glorious display in "The Eternal Eye: From Rembrandt to Picasso, Masterworks from thecollection of Jan Krugier and Marie-Anne Krugier-Poniatowski," an exhibition of some 250 drawings, paintings and sculptures that ran last year at Munich's Kunsthalle der Hypo-Kulturstiftung and was accompanied by a dense, 500-page catalogue.
The objects in the show reflected an ease with art that began early. Born in 1928 in the small Polish city of Radom, Krugier was raised by his father (his mother died when he was five), who made his living representing mining companies but whose passion was French art. At home, the dealer remembered, there were "bad Impressionists, lots of Utrillos."
In 1942 the Nazis killed everyone in Krugier's immediate family except Jan himself, who was shipped off to a labor camp. He escaped only to be arrested later as a member of the Polish resistance and sent to Auschwitz-Birkenau, where thousands of Jews, arriving in railroad cars from all over Europe, were exterminated daily.
As the Red Army closed in, the Nazis emptied the camp and sent Krugier on a "death march" to Germany, where until the German surrender he was imprisoned in Mittelbau-Dora, a labor camp that supplied workers for V-2 rocket production. The dealer says that fellow prisoners he befriended, veterans of the Spanish Civil War, would afterward introduce him to the work of Picasso.
In 1945, Krugier recalled, "I was lucky to be in Hannover at the moment of the Liberation." Had the teenager found himself in the Soviet sector instead of in Germany, he might have been repatriated to Poland or, like many other prisoners, interned in a camp back in the Soviet Union.
In Hannover, Krugier met Margaret Bleuler, the Swiss philanthropist whom he called "my adoptive mother." Bleuler, who was involved in Jewish charities in Poland before the 1939 Nazi invasion, took Krugier and other Polish Jews who survived the camps to Zurich. Besides providing lodging, she helped the young man perfect the German he had learned in Auschwitz.
In Zurich, Krugier studied painting with the Bauhaus artist Johannes Itten. In 1949 he moved to Paris and, with an eye toward establishing a career as a painter, rented Chaim Soutine's studio as his residence. He worked for a series of art dealers and befriended various artists. His Geneva gallery soon followed. And although Giacometti and others whose work Krugier admired — Morandi, Dubuffet and Joaquin Torres-Garcia, among them — were a hard sell in those days, the dealer managed to make a living from pieces that these artists and their families entrusted to his gallery.
Later another relationship, with Picasso's granddaughter Marina, was crucial in building his business to its present level. The story behind this connection, oft repeated in the art world and confirmed by Krugier's gallery staff, begins in 1973, when the phone rang at the Côte d'Azur villa of Krugier's brother-in-law, Michel Poniatowski, the French minister of the Interior. Krugier answered, and on the line was Marie-Thérèse Walter, who in the late 1920s and early 1930s was Picasso's teenage girlfriend and the model for his serenely erotic portraits. Walter told Krugier that Pablito, the grandson of the artist and Olga Khokhlova, had just swallowed poison and that she wanted the minister to rush him by helicopter to the American Hospital in Neuilly.
Krugier himself arranged for the boy's transport, and although Pablito died, the young man's sister Marina never forgot the dealer's assistance. After her grandfather's death, she made Krugier her art adviser. "Marina was the only one of the heirs to have a dealer advise her on her share of the inheritance," says John Richardson, the author of the most comprehensive Picasso biography and an acquaintance of Krugier's since the 1950s. "Quite apart from the fact that Marina was a legitimate child of Picasso's one legitimate child [Paulo], this and Krugier's help gave her an advantage over the other heirs." Richardson cites the dealer's influence in Marina's choice of works from her grandfather's estate. Thereafter, Krugier never lacked for great Picassos in his inventory.
"It was the backbone or foundation of the latter part of his career," says Tunick. "It's not that he wasn't an important dealer before that, but this was an achievement that rocketed him into some kind of stratosphere. And from the standpoint of a dealer in the print world, it had an enormous impact, being such a source of [lucrative] Picasso graphics all these many years."
Despite his stellar connections, Krugier never limited himself to artists with big names. In the 1970s and 1980s, when he operated out of a small upstairs space on 57th Street in New York (while keeping his gallery in Geneva), his stock included not only works by the French sculptor Germaine Richier but Rothko paintings and Basquiat drawings as well. The same artists appear today in the modest gallery on Madison Avenue, downstairs from Gagosian, that was his New York office.
That mix of classic and modern, of time-tested and timely, characterized Krugier's personal collection, too. He lived in an 18th-century cottage-style country house that was intimate rather than grand, surrounded by lovely gardens in an area that was once far outside Geneva and is now a suburb. Works of art cover every wall. Krugier and his wife began purchasing modern and Old Master drawings in the early 1970s, developing a collection that, 40 years and thousands of acquisitions later, their house couldn't contain and that museums in Berlin, Munich and Geneva wouldn't mind owning. At the time of his death, the couple were establishing a foundation to hold their pictures and lend them to institutions.
The first drawing the Krugiers bought together was a landscape by Georges Seurat. They then turned to Old Masters — a figure study by Tintoretto, a galley slave by Carracci and an exquisite skull of a bird of prey by Raimondi. From Marie-Anne's grandfather, they inherited a serene study for a Madonna by Parmigianino.
But the pictures from the 19th and 20th centuries best revealed the connoisseur's eye. In Krugier's home office, from which he conducted much of his business, the walls are adorned with radiant watercolors by Turner and subtle Degas landscape pastels that approach abstraction — except for one with a topography that resembles the curves of a reclining woman — plus a stunning self-portrait in pencil that the French artist drew at 22. Among the many Picassos is a 1925 portrait of Enrico Cecchetti, the ballet master of La Scala, in Milan, that approaches the precision of an Ingres. And Krugier's Dora Maar with a Bonnet, 1936, is Picasso at his most tender, with none of the grotesquerie or formal exaggeration that typifies his work from this period.
When the Krugiers began buying — and Jan began dealing in — works on paper, these were inexpensive and unfashionable, characteristics that, with their promise of appreciation, a savvy dealer would find attractive. But Krugier had other, less commercial motives for his interest: The works followed the contours of his taste, which leaned toward line, composition and figure, rather than painterly flourishes or abstraction.
You don't find many portrayals of personal suffering, war or the Holocaust in his home or in his gallery. "I'm wary of anyone who tries to depict that time," the dealer said. He made an exception, however, for Zoran Music, a Croatian-born Dachau survivor whose stark silhouettes, some of them self-portraits, make Giacometti's work look cheerful in comparison. Among Krugier's personal holdings is a piece from the series "We Are Not the Last," a drawing of a man covering his face with clenched fingers, which Music gave him as a gift.
Eerie affinities exist between Music's figures and the likeness of the dealer in Jan Krugier Reading, a grayish ink drawing on reddish paper showing him seated with a book in his hands. The work of his wife, Marie-Anne, it was the only portrait of himself that Krugier displayed. He was reluctant to speculate on why, unlike so many prominent dealers, he never asked artists he represented to paint or draw him. "It's a question that I've never asked myself," Krugier said impatiently. His wife, however, had an answer at the ready: "No artist could get him to sit still long enough."
The dealer's reticence on this issue was atypical. Krugier held many strong opinions that he expressed equally strongly. For example, although he generally dismissed U.S.-born artists, he admired Edward Hopper, calling him, "the American de Chirico" for his depiction of mute, empty spaces. And he termed Rothko, among the handful of abstract painters whose works Krugier owned, "one of the few artists who touched spirituality with art — very fragile, very secret." Asked to name the most overlooked talent of the 20th century, Krugier cited another practitioner of abstraction: the Dutch Bram van Velde (1895-1981) — "a great painter" who was admired by Samuel Beckett and others in Krugier's 1950s crowd, if not by the general art-buying public. The dealer stocked the now-forgotten painter's work.
It was characteristic of Krugier to champion artists whom he valued, rather than those who sell. At his booths at Art Basel, Art Basel Miami Beach and tefaf, prices were so high for "difficult" pictures that Krugier seemed to be daring clients to buy. At Maastricht last spring, for instance, he offered Reclining Woman, a massive and jarring Picasso that the artist painted in 1946 in his wartime palette of desiccated gray browns, with a price tag of $31 million. No one took the bait, even though the picture covered a huge section of the booth's outside wall.
"He was a collector in dealer's clothes. He measured money in terms of pictures, instead of pictures in terms of money," observes his friend and fellow dealer Richard Feigen. "He preferred buying to selling."
He also enjoyed beating the competition to a work of art. "Very often when I was at an auction and I spotted something, the only person that I was afraid of spotting it was Jan," Feigen says. "There was a very important Max Beckmann that sold some months ago in New York. I thought it was going to bring $12 million or $13 million, and it went for $6.5 million. I said, 'My God, what a bargain! Who bought it?' It was Jan, of course."
That purchase was typical Krugier. A decade ago, at the sale of Dora Maar's estate at Paris's Maison de la Chimie, he managed to grab an important painting away from the Musée Picasso, in Paris, which was desperate for it. The prize was Picasso's 1937 Female Figure, Inspired by the Spanish Civil War, whose depiction of a monstrous creature in aristocratic garb, holding the Spanish flag while standing on a balcony, fused the artist's horror at the violence in his homeland with maja imagery borrowed from Goya.
The painting, which had never been publicly shown before the sale, was exhibited in Munich last year as part of Krugier's personal collection, but somehow it found its way into his inventory and was offered at tefaf in March. Hardly an easy sell, especially at $12 million, the picture was bought in the spring, for a lower figure, by a Spanish collector.
Krugier, the collector and survivor, was not overly concerned about the boundaries between his work and his life. "I'll always let some pieces go, for the right price, in order to get more," he said.
Perhaps that hunger for art will be the dealer's true legacy. In his last years, he was attempting to shape posterity's view of him through his foundation and through exhibitions like the one last fall at New York's Dactyl Foundation, which paired pieces from his collection with contemporary works. Despite his illness, Krugier was busily operating his galleries in Geneva and New York over the summer and fall — and laughing at the word legend, a description that the stubborn dealer wasn't ready to acknowledge, at least not yet. "I can't control it," he said with a slight chuckle. "Legend? Please — I'm still alive."