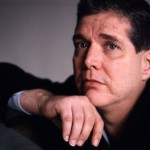 May 8, 2003 7PM
Friends and family are invited to Dactyl Foundation to remember Gerrit, read his work, and say a few words.
Program: Neil Grayson, John Ashbery, Susan Baran, Marc Cohen, David Lehman, Maggie Paley, Bill Sullivan, John Wells, Tom Breidenbach, Audrey Ushenko, and Ellen Banks. Gerrit Henry has published feature and critical articles in After Dark, Artnews, Art in America, The New York Times, The Village Voice, The Los Angeles Times, People, Art International, The Spectator, and The New Republic. His books include Janet Fish: A Monograph (Burton & Skira, Geneva, 1987), The Mirrored Clubs of Hell: Poems by Gerrit Henry (Little, Brown and Company, 1991), and Poems & Ballads (Dolphin, Baltimore, 1998). He is also published in Paris Review, Yale Review and Cover. A chapbook of his recent work is forthcoming with Groundwater Press. His last project, "Climbing the Stairs," a documentary about his life and poetry (with John Ashbery), directed by Neil Grayson and produced by Dactyl Foundation for the Arts & Humanities, will be released in 2004. Henry has been an advisory board member and Poetry Series Director at Dactyl Foundation since 1998. Born May 30, 1950, in New York, he graduated from Columbia College, Columbia University in 1972 with a B.A. in English. He studied poetry under Kenneth Koch. Henry has received awards from The Cornell Woolrich Fellowship, Columbia University, The National Endowment for the Arts, the Ann and Erlo Von Waveren Foundation, and NYFA artists' fund. He taught at C.W. Post College on Long Island and Manhattan's and School of Visual Arts.
May 12, 2003
Gerrit Henry, An Art Critic Who Also Wrote Poetry, Dies at 52
By KEN JOHNSON
Gerrit Henry, an art critic and poet, died on May 1 at his home in Manhattan. He was 52.
The cause was a heart attack, said John Wells, a friend.
Mr. Henry was best known for his widely published writings on art, in which he tended to favor contemporary combinations of traditional representation and modernist abstraction.
His witty, confessional poetry, often written in couplets, was influenced by the songs of Cole Porter and Steven Sondheim, and he had a brief career as a cabaret singer and songwriter in the 1970's.
His poetry books include "The Mirrored Clubs of Hell: Poems by Gerrit Henry" (Little, Brown & Company, 1991) and "Poems & Ballads" (Dolphin, 1998).
He attended Long Island public schools and in 1972 received a bachelor's degree in English from Columbia, where he studied poetry with Kenneth Koch.
While still in college he worked on the information desk of the Museum of Modern Art, and he was recruited by the poet John Ashbery, then an editor at Art News magazine, to write art reviews.
He became contributing editor for Art News, and he wrote reviews regularly for Art in America magazine. His articles and reviews also appeared in The Village Voice, People, Art International, The Spectator and The New Republic. He wrote many essays in exhibition catalogs. His book on the realist painter Janet Fish, "Janet Fish: A Monograph" (Burton & Skira), appeared in 1987.
A book of Mr. Henry's recent poems will be published soon by Groundwater Press. A documentary film about his life and work, directed by Neil Grayson, is scheduled for release in 2004.
Mr. Henry is survived by his mother, Mary Jane Henry, and his sister, Janice Henry, both of Boston.