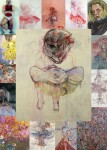 April 1-25, 2009
Tuesday-Saturday 1:00 – 6:00 PM
Thirty Years of Fearlessness
In April 2009 the Dactyl Foundation for Arts and Humanities will present a thirty-year retrospective of paintings and drawings by Judy Glantzman. The recipient of numerous awards, including a Pollock Krasner Foundation Grant, an Anonymous Was A Woman Foundation Grant, and a John Simon Guggenheim Memorial Fellowship, Glantzman's work can be found in a number of private collections and museums.
Glantzman's fourth solo exhibition at Dactyl Foundation and first retrospective includes works beginning in 1979, a pivotal year for Glantzman as well as for the art world. She had graduated from Rhode Island School of Design the year before, earning the Silver Medal from the Royal Society of the Arts and other prestigious awards, but not quite assured by these achievements, she sought to prove to herself she was the artist she felt herself to be. After many thoughtful months working her NYC studio, working apart from any community for the first time as an artist, she discovered she had a profound faith in what she was doing even when she did not understand it. She learned to trust her mistakes as sources of growth and exploration, treating them like the wise and riddling sages they were. The style that emerged from this bold commitment was manifestly fearless.
Her work would find a place within the youthful exuberance of Neo-Expressionism that was then bursting into life in New York's East Village. In 1979 Jean-Michel Basquiat was just gaining notoriety, Julian Schnabel was having his first solo show at Mary Boone Gallery, David Salle was launching his career, and art market profits were beginning to show signs of the unprecedented numbers to come. On the one hand, these profligate and brash artists were rebelling against the Minimalist aesthetic that had seemed to them Puritanical. On the other, they were abandoning the idealistic notions of art as a non-commodity and embracing Andy Warohl's entrepreneurialism.