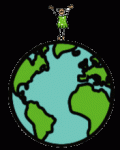 Now you can support Dactyl Foundation's art-science programs next time you make travel reservations using any one of the major online companies, like Orbitz or Travelocity, or when you make any purchase on Amazon.com. 6% will go to Dactyl Foundation at no extra cost to you. Just use the links below to enter your favorite online site and make your reservation or purchases as you normally would, and Dactyl Foundation will receive a 6% donation. You will see the same low prices as you would if you entered these sites directly.
Next time you make travel reservations online, enter your favorite site through this page Hopetels.com
http://www.hopetels.com/dactyl
Next time you're buying ANYTHING on Amazon.com, enter through this page
The Biologist's Mistress: Rethinking Self-Organization in Art, Literature, and Nature
We have an exciting conference and art exhibition on mimicry and crypsis planned for fall 2012. Stay tuned for the call for papers. Thanks for supporting Dactyl.