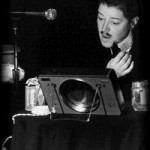 Feb 5 2002
Diane Torr in Discussion. Drag King Ambassador to the World.
Diane Torr will present her work as a performance/installation artist whose investigations into sexuality and identity over the past 20+ years have produced pioneering performances, which have toured throughout the U.S., Canada, Europe and Eurasia. Working as a go-go dancer in the working men's clubs and bars of New Jersey from 1978-81 gave Diane the opportunity to explore "contemporary notions of the erotic" and the representation of women's sexuality. This experience instigated a series of performances and films that reinvent the erotic. Taking on a male persona in one of these performances, AROUSING RECONSTRUCTIONS (1982), at St.Marks Church, New York, was the beginning of an ongoing exploration into gender and identity. She is presently working on a series of monologues written by the French surrealist artist, Claude Cahun, some of which she performed at the Maison Francaise and Dixon Place.
Diane is a graduate of Dartington College of Arts, England and a fellow of the Whitney Museum Independent Studies Program, and is matriculated in the MFA program at Bard College. Her movement/bodywork background includes the study of Release Technique, Contact Improvisation, Aikido and Shiatsu. She holds a third degree black belt in Aikido from New York Aikikai. Her work has been the subject of profiles in G.Q., The Washington Post, High Performance,Village Voice, The Manchester Guardian, German Vogue., etc. and is documented by BBC2 in its Q.E.D. series. Diane is a recipient of grants from NYSCA, Jerome Foundation, Joyce Mertz Gilmore Foundation, Art Matters, Artist Space, Yorkshire and Humberside Arts, RE.AL Lisbon Research Residency.