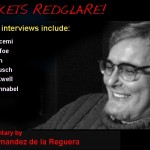 October 2 2002
6:30pm
Screening of "Rockets Redglare!" a documentary by Luis Fernandez de la Reguera, discussion with filmmaker to follow.
"Rockets Redglare!" features interviews with Matt Dillon, Willem Defoe, Jim Jarmusch, Steve Buscemi, Julian Schnabel and Nick Zedd.
NYC 1949. Rockets Redglare was born Michael Morra and addicted to heroin. An opiate added to his formula to ease the pain of heroin withdrawal began the first of countless detoxes during his lifetime. After his father, a career criminal, was deported to Italy and his mother was murdered, Michael became Rockets Redglare.
Rockets went on to explore his tragic beginnings in stand-up comedy, partnering with Steve Buscemi in "The Rockets Redglare Taxi-Cabaret." He was bodyguard and drug dealer to Sid Vicious and Jean Michel Basquiat. Rockets appeared in over 30 films, including Stranger Than Paradise, In The Soup, Down by Law, Desperately Seeking Susan, Mystery Train, Animal Factory, Talk Radio, Big, and Trees Lounge.
Rockets Redglare! uses interviews and archival footage to resurrect the irreverent comedy and lust for life that were Rockets' triumph and downfall. De la Reguera's film is an important document of the downtown performance scene in the 1970's & 80's and a striking memorial to a man who traveled through NYC's darkest underworlds to find humor and dignity within.
Grand Jury Prize for Best Documentary at the New York International Independent Film and Video Festival.
Chosen for the 2003 Sundance Film Festival in Park City, Utah.
Luis Fernandez de la Reguera, originally from New Orleans, Louisiana, survived a Catholic reformatory and left home at the age of 17. In 1984 Reguera relocated to New York City to play in a Punk rock band. He went on to perform stand-up comedy, own Big Plate Recording and work for musician Lou Reed. His misspent youth in a pre-gentrified Lower East Side exposed him to many of the unique people, places and times, including the inimitable Rockets Redglare, that appear in Reguera's documentary.
Reguera has also performed at clubs throughout New York City and was a cover story in CMJ magazine. His first short film "Differently Able" which he wrote, directed and acted in, is featured on Undergroundfilm.com
For more information, please visit RocketsRedglare.tv
Curated by Tara Anderson