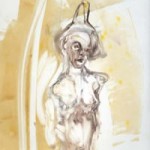 September 13th – November 8th 2003
"Paintings, Monoprints & Drawings" is Judy Glantzman's third solo exhibition at Dactyl Foundation for the Arts and Humanities. Since her first show at Dactyl, her career and work has continued to mature at both the professional and artistic level. Glantzman was awarded a Guggenheim Fellowship in 2001. A selection of her work is currently at P.S.1 (Museum of Modern Art) in a group show, "Site and Insight." Dactyl Foundation has always appreciated Glantzman's work as a tremendous contribution to contemporary art.
This year Dactyl Foundation presents Glantzman's never before exhibited monoprints (1995) and new drawings. At this point in her artistic career, it seems fitting to show Glantzman's progressing exploration of self-portraiture and human form, abstracted or precisely real. In her drawings, Glantzman demonstrates an ability to use the absence of color as a means of emphasis. Particular facial features, the shadows in the part of the lips or the slight wrinkles under the eyes, seduce the viewer into seeing depth in a one-dimensional composition. The monoprints are created by painting in oils on plexi plate and then running the paper through a press. This process leaves behind a print painted with both the translucent quality of watercolor and the bold presence of oil. In the monoprint, Glantzman's talents in both drawing and painting are fully apparent. The detailed renderings of eyes, shoulders, or hands are paired with broad and expressive strokes, creating a feeling of solidity and delicacy at the same time.
A number of paintings will be exhibited including one work in progress which is the center piece of the show. Return in the final week to see how this largest painting hanging on the far wall has progressed. Glantzman will make only subtle changes, but visitors to the gallery will notice the characters coming forward and dropping back. As Ken Johnson (New York Times) remarked, her work always involves a "hectic, self-excavating, psychology." The form this one takes varies from day to day, painting to painting. The show ends, and the painting is completed Nov 8.
Judy Glantzman at the Dactyl Foundation
February 2003
Edward Leffingwell
By way of introduction to the theme of this exhibition, Judy Glantzman's preoccupation with face and figure informs a series of drawings and monoprints made in 1995. In three of four drawings in gouache and ink, the subject— her daughter—sports round-toed, strappy Mary Janes like an emblem of innocence. She is mostly foreshortened, as though to emphasize the disparity between the experience of a child and the outsized world of grown-ups. In one drawing, the child is skirted, maybe in a tutu, in the midst of a group of other children—who may be multiplications of herself—and she has lost one shoe. This tender regard for innocence and humanity was at the heart of Glantzman's striking show.
Compulsively iterated, the uncountable faces that populate Glantzman's nine untitled 2003 paintings tend to be ebullient and wide-eyed with wonder, different in their particularities yet alike in their expression of humanity. The visages are built up one stroke at a time with an enjoyment of color and paint laid down by brush or knife, red against yellow and blue; negotiated balances of abstraction and figuration hold the eye across these expanses. In the 2-foot span of a small, oval canvas, Glantzman locates one full, small figure with quickly brushed legs and arms that seems at ease amid controlled anarchy. As light strikes the painting at an angle, ridges of impasto reveal moments in the history of its making without disclosing what was buried in the process. In a second oval painting, the larger faces begin to resolve as identities, two of them cradled by an absent figure's hands in a gesture that might read as patient observation.
In one large painting, faces seem to grow from extended hands. Others are barely sketched in confident, thin strokes of red that bring them forward, separating the singular from the general. The heads grow larger in the painting's lower quarter, and, like souls rising on Judgment Day in some Renaissance chapel, faces quickly sketched in yellow float above a loosely brushed field of modulated colors. The figure of a woman drifts in a wash of cerulean blue; a pale violet indicates her hands and arms while a quick line defines her face. In the conversation between figure and color field, there are big, confident passages of a golden yellow, which spills down along the surface. A few studies outlined in orange have the familiarity of figures drawn from life. During the weeks of the exhibition, Glantzman returned to the gallery after hours and continued to work on a large painting on the far wall, exploring and developing its expression amid the sea of humanity she had created.
[simpleviewer=8,1000,740]
"I returned to the gallery, after hours, to paint with two motives. One, having arrived at the unifying structure of the work, I am enjoying ( for the first time in my work) the ability to enter this crazy place I have created of all these little heads, and playing with them. For me this means, re articulating them and continuing to create more and more complex relationships between them. The other motive is that when a show is hanging on the wall in a clean, well-lit space, it is no longer alive for the artist. I am continuing to keep the painting alive by handling it; to touch them is to reanimate them for myself. The question: when is a painting finished? is a critical one for the artist, and I am pushing my own boundaries of what that means to me. This painting is really finished now, and was after it was hung. Now I get the pleasure of entering this mad world, an extension of my head, and playing in it. As the process of the work is recorded and made available on the net, the viewer can also participate in the process of my journey."
–JG