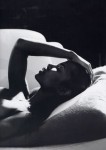 Book Release Party/Photography Exhibition
November 20 – 29, 2003
Dactyl Foundation for the Arts & Humanities
Intimate: Nudes by Marc Baptiste
The Dactyl Foundation for the Arts & Humanities will host a book-release party for award-winning and internationally renowned photographer Marc Baptiste November 15th. A public exhibition will follow November 18 – 29. Baptiste is one of the most respected celebrity and fashion photographers working today. His work has been featured in Vanity Fair, Allure, Vibe, Essence, Esquire, Rolling Stone, Cosmopolitan, Entertainment Weekly, and German Vogue, among others.
Marc Baptiste can be called a master of fine-art nude photography for the way he  reintroduces the erotic, with a bold commitment to beauty and desire. For centuries the fine-art nude photograph has desexualized and consequently dehumanized women. The games of concealment practiced in classical poses may be played in order to distance the work from pornography, but the effect has often been to make ideal objects out of bodies, and the human beauty is lost. Baptiste never lets the viewer forget that his models are real, desirable women. They are each uniquely sensual, provocative, and beautiful. Each image illustrates the profound intimacy possible only by an artist who freely expresses his appreciation and reverence of the woman's body through his stunning work. With both black & white and color photographs, Intimate exemplifies Baptiste's diverse style and mastery behind the lens.
[nggallery id=34]
Intimate: Nudes by Marc Baptiste
Photography by Marc Baptiste. Introduction by Bethann Hardison
Hardcover 9 1/2″ x 12″ / 160 pages / 120 color and b&w illustrations
$45.00 US, $70.00 Canada
Universe Publishing (An imprint of Rizzoli International Publications)
ISBN: 0-7893-0994-7 November 2003 www.rizzoliusa.com
The Post
November 17, 2003
Nether Named True love never dies—especially when it's etched in indelible ink. Tiffany Limos – best known for starring in then-boyfriend Larry Clark's still-unreleased "Ken Park"—proved as much while posing for Marc Baptiste's nud photography book "Intimate," in which a "Larry" tattoo is visible on her nether regions. But wait, it's no what you think. "I got it before I met Larry," Limos tells us. "My father's name is Licerio, but everyone called him Larry, and that was my nickname when I was a kid." Other hip chicks in "intimate" include P. Diddy's galpal Kim Porter, singer Kelis and fashion designer Elisa Jimenez. Baptiste signs his book Thursday at the Dactyl Foundation for the Arts & Humanities on Grand Street from 7 to 9 p.m.