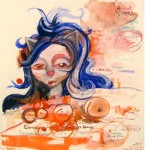 July 14-August 13 2005
Opening Reception: Thursday, July 14, 2005, 7-9 p.m.
Nico Berry is a graphic designer and illustrator specializing in the urban youth market. He art-directed Thrasher skateboard magazine for 4 years, and currently freelances in New York City. Some of his recent clients include The Source magazine, Roadrunner Records and Fetish by Eve clothing. Nico's website is www.nicoberry.com
Daniel Chen is a carpenter by trade, creates graffiti based sculpture out of building materials. His three dimensional graffiti is as sound structurally as it is stylistically. He has shown at Rogue Buddha gallery and teaches drawing and painting classes at Juxtaposition Arts in Minneapolis.
Matthew Clark is a painter and curator living in New York City. He recently donated a piece to the Artist's for Tsunami Relief benefit at Phillips auction house in NYC. Matt co-curated Graffiti at Simmons College, Boston in 2001. His work is a mixture of abstraction and figuration, drawing on personal mythologies, graffiti and the written word. Matt's work can be seen at www.Monkeyshine.name
Keet D'Arms is a tattoo-artist based in Salt Lake City. Keet grew up in the American Southwest, where he was heavily influenced by Chicano culture, graffiti and placasos. His work deals with accountability and impermanence, and the importance of proximity to the working process. Keet's work was recently published in The Greatest Sketch Show On Earth by TheThreeRingCircus.com.
Jason Honig is based in Atlanta. He draws intricate yet playful compositions combining elements of architecture and the human figure. He has shown at Rogue Buddha Gallery in Minneapolis.
Chaka Mkali is a Rhymesayers Entertainment recording artist under the name I Self Divine, as well as one of the founders of the AKB crew. An artist, rapper and community activist, Chaka is a legend and cornerstone of the Twin Cities underground hip hop and graffiti culture.
Sam Parker is a painter and tattoo artist working in Atlanta. Sam's works in a wide variety of media, styles and subject matters, from worldwide religious iconography, to political satire, to psychadelia. He has recently exhibited works at the Museum of Contemporary Art, Atlanta, and the MOMUS gallery in Atlanta's Tula Art Center.
Tony Pugh is a painter and illustrator in New York City, where his last solo show at McCaig Welles gallery completely sold out. Tony's work is influenced by comic book art, among other things, and deals largely with issues of identity and ethnicity seen through the prism of modern America. His paintings express disenchantment with the American media, government and society as a whole. Tony's website is www.Logikone.com
Caleb Scott is a painter and show promoter working in the Atlanta area. He's brought DJ Premier, Biz Markie and Large Professor to Club Django in Atlanta within the last few months. Caleb has sold his artwork internationally; he currently shows at Deljou gallery in Atlanta.
Nils Thorsen is a graphic designer living in San Francisco. He creates paintings based on intense study and refinement of letter forms via graffiti and digital media. His work was featured at the Midwizest show at Stay Gold Gallery in Brooklyn last year.
[simpleviewer=5,1000,740]