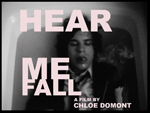 March 27, 2010 at 7pm
rsvp@dactyl.org required
HEAR ME FALL follows a tortured boy as he makes his way back to his ex-girlfriend's apartment one last time – As he goes over each dark truth in their relationship, we see that the real pain does not come from how much she manipulated him, but from how much he manipulated himself in order to keep her.


Watch the trailer.



CHLOE DOMONT is an upcoming screenwriter/director currently studying at the Tisch School of The Arts of New York University in the Maurice Kanbar Institute of Film & Television. Born and raised in Los Angeles, California she interned for many different film companies before the age of eighteen. Before attending film school, her first short film, "DISCONNECTED" was the Official Selection of the Los Angeles Short Film Festival of 2006. In 2007, she spent a year in London, where she shot and directed the "MAKING OF: THE CONTINUING AND LAMENTABLE SAGA OF THE SUICIDE BROTHERS," starring Keira Knightley and Rupert Friend. This past year, her short film "LULLABY," was selected by Danny Lennon in association with the National Film Board of Canada at The Short Film Corner – CANNES 2009 for the venue: "Come on Feel the Noise by Danny Lennon (ONF/NBF Canada) and premiered in the Palais at the Festival De Cannes 2009. Her most recent short film "HEAR ME FALL," has been selected as a finalist for The Fusion Film Festival 2010. She is currently developing several projects in film, television and theater.
[simpleviewer=17,1000,750]