May 13-24, 2010
Opening Reception Thursday May 13th, 7-9PM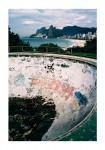 Jens Stoltze is a professional photographer with a career spanning almost 20 years. Once graduated from the Royal Danish Art School, he found quickly success as a freelance photographer and then in 2005, he founded S Magazine, an international fashion and photography biannual, for which he is now editor-in-chief. He has exhibited in several solo and group exhibitions both in Denmark and the United States.
Stoltze has visited Rio de Janeiro many times, during the course of which he realized at some point that "there is more going on under the surface of the city than above it." During his visits, Stoltze became interested in the outer neighborhoods. By pursuing one circumstance after another, he was able to document the secret lives of the people of Rocinha, the sex and drugs, the love and war. Circumstance plays a major part in Stoltze's photography. The viewer finds himself focussing on not how the subjects look, but where they look. When staring into the camera, the subject is self-consciously represents the favela as carnal and violent. Jens Stoltze's photography provides a welcome contrast to much of contemporary imagery relating to Rio de Janeiro, which has shifted emphasis away from depictions of everyday individuals. Stoltze has instead focussed his lens on the people whom you would encounter and, perchance, befriend were you to visit the sprawling shantytown of Rocinha, the largest of Rio de Janeiro's favelas.
[simpleviewer=22,1000,900]