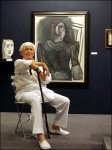 November 20, 2008
Jan Krugier, Dealer of Art by Picasso, Balthus and Other Modernists, Dies at 80 – Obituary (Obit) – NYTimes.comhttp://www.nytimes.com/2008/11/20/arts/design/20krugier.html
Jan Krugier, who survived two years in Nazi concentration camps as a young man and went on to become a highly regarded dealer of work by artists like Picasso, Morandi, Balthus and Giacometti, died on Saturday at his home in Geneva. He was 80.
His death was confirmed by his gallery in Manhattan, which did not give a cause.
While serving as a teenage courier for the Polish resistance, he was captured and shuttled from camp to camp, including Auschwitz, before ending up at Bergen-Belsen in 1945. After the war he lived with family friends in Zurich, where he studied art with Johannes Itten, an early member of the Bauhaus, and in 1947 moved to Paris, where he rented one of Soutine's former studios. He credited Giacometti (and sometimes Matisse) with pushing him to make the pivotal decision to abandon his dream of painting and open a gallery instead.
"He told me, 'You cannot go on, Jan, you are filled with too much anguish. It's too agonizing, you simply must not continue,' " Mr. Krugier said of Giacometti in a 1998 interview with ARTnews.
Mr. Krugier (pronounced KRU-zhee-ay) started as a consultant to collectors and opened his first gallery in Geneva in 1962. Off and on since 1966 he also maintained an active presence in New York and was the curator for an exhibition, "Dialogues," on view through Thursday at the Dactyl Foundation in SoHo, a collaboration between the foundation and the Jan Krugier Gallery on Madison Avenue.
Though he sold the work of many Modern art titans, he was probably best known as the exclusive agent for the collection of Picasso's works inherited by that the artist's granddaughter, Marina.
For decades Mr. Krugier was a colorful, curmudgeonly fixture at auctions and art fairs in Europe and New York with his fedora and cane and ever-present cigar. In later years he also amassed a significant collection of old-master works on paper.
Born Janick Krygier to a prosperous Jewish family in Radom, Poland, he developed a love of art as a child, admiring his father's small collection, which included works by Soutine and Chagall. He lost his mother at age 5, his father died in battle, and Mr. Krugier's brother was sent to Treblinka and never seen again. Mr. Krugier is survived by his wife, Marie-Anne Krugier-Poniatowski of Geneva; a daughter, Tzila Krugier of Paris; and a son, Aviel, of Geneva.