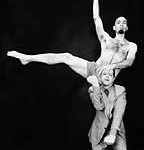 March 26, 2002
Kill With A Borrowed Knife: A Lecture-Performance of BudoFlux
Presented in association with PJ Novelli and the Tuesday Night Forum Series.
Kill with a Borrowed Knife is an ancient martial arts stratagem. It means making use of an opponent's resources for one's own gain: for example, using U.S. passenger planes to attack the United States. Budoflux uses this and other stratagems to introduce the integrated performance language of martial arts/dance presenting brief, theatrical actions based on the nature of conflict.